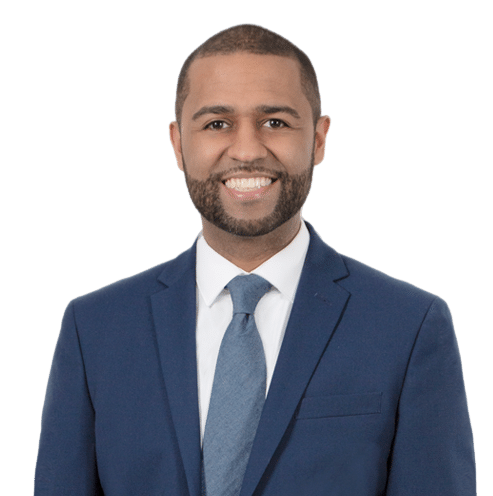 Awards and Recognitions
Rhode Island Monthly, Professional Excellence in Law (2022, 2021, 2020)
Super Lawyers, Rising Star (2022, 2021, 2020)
Rhode Island Lawyers Weekly Excellence in the Law, Up & Coming Lawyer (2021)
CALI Excellence for the Future Awards, Trial Advocacy (2014) and Civil Rights – Equality & Discrimination (2013)
Professional Appointments
United States District Court for the District of Rhode Island, Court Advisory Council; Diversity, Equity and Inclusion Committee Chair (2023 – Present)
United States District Court for the District of Rhode Island Conference Co-Chair, "Racial and Social Justice in the Federal Courts" (2022)
United States District Court for the District of Rhode Island Merit Selection Panel (2020)
Speaking Engagements
Rhode Island Bar Association Annual Meeting Plenary Session, "Stand and Deliver" (2022)
Rhode Island Bar Association CLE, "2022 Employment Law Update" (2022)
Northern Rhode Island Chamber of Commerce, "HR Roundtable – The New Pay Equity Law: What Employers and HR Professionals Need to Know!" (2021)
Northern Rhode Island Chamber of Commerce, "HR Roundtable: COVID – Updating Your Policies and Employee Handbook for 2021 and Beyond" (2021)
Rhode Island Rotary Club, Providence chapter, "Vaccines in the Workplace" (2021)
Professional Affiliations
Rhode Island Bar Association
Thurgood Marshall Law Society
Rhode Island Hispanic Bar Association
Federal Bar Association, Rhode Island Chapter
National Lawyers Guild
Community Engagement
Rhode Island Center for Justice; Founding Board Member (2013 – Present)
Roger Williams University School of Law Pro Bono Collaborative; Board Member and Participant in Special Immigrant Juvenile Project (2018 – Present)
Joshua D. Xavier serves as Counsel at Sinapi Law Associates, Ltd. His practice consists primarily of employment, civil rights, and housing discrimination law.
In his role as an employment attorney, Joshua represents employees in all areas of employment litigation, including, but not limited to, claims relating to wage and hour disputes, discrimination, retaliation, sick leave, unlawful termination, severance agreements, and unemployment appeals.  In addition, Joshua provides advice and counsel to employers on a variety of employment-related topics to ensure compliance with applicable law.
As a civil rights and housing discrimination attorney, Joshua handles cases involving the First Amendment, Fourth Amendment, false arrest, excessive force, police misconduct, and matters relating to Federal and Rhode Island Fair Housing laws.
Joshua prides himself in playing an active role within the community.  His community involvement includes serving as a founding board member of the Rhode Island Center for Justice, a non-profit legal services agency, as well as a board member for and participant within the Roger Williams University School of Law Pro Bono Collaborative, which connects law firms, attorneys and law students to community organizations that need pro bono legal services for their organization and/or their clients.
Prior to re-joining Sinapi Law Associates, Ltd., Joshua worked as an attorney with Partridge Snow & Hahn, LLP, one of Rhode Island's largest law firms, where he provided advice and counsel to employers of all sizes.  Joshua also served as a judicial law clerk for the Rhode Island Superior and District Courts from 2014 through 2015.
Joshua graduated cum laude from Roger Williams University School of Law in 2014 where he served as President of the Multi-Cultural Law Students Association and participated on the Moot Court team.  He is admitted to practice law in the Rhode Island and Massachusetts Federal and State Courts, as well as in the United States Court of Appeals for the First Circuit.
Notable Cases:
Taylor v. National Investments, Ltd. et al, No. CV 17-117 WES, 2022 WL 306367 (D.R.I. Feb. 2, 2022). Joshua represented a tenant residing in public housing alleging that she was unlawfully discriminated and retaliated against by her landlord.  In a matter of first impression, the Rhode Island Federal District Court determined that in order to establish a prima facie case of retaliation under the Federal and Rhode Island Fair Housing Acts, plaintiffs are not required to establish discriminatory animus on the part of defendants.  Rhode Island Lawyers Weekly included the Taylor case within its list of, "The Most Important Opinions of 2022."  Furthermore, the Taylor case was included in The Housing and Development Law Institute's (HDLI) Spring 2022 Legal Conference Review of Case Law. The HDLI is a nationwide non-profit membership organization that serves as a legal resource for stakeholders in the affordable and public housing industry. HDLI is the only national organization solely addressing the legal, rather than the policy or administrative, issues facing public housing and redevelopment agencies.
Munsif et al. v. U.T.G.R. Inc. d/b/a Twin River, No. CV 16-387 (D.R.I. 2016). Joshua served as plaintiffs' counsel on behalf of seventy-two (72) employees alleging failure to pay overtime wages in a Collective Action arising under the Fair Labor Standards Act, resulting in a settlement in excess of $750,000.